Guests having fun and enjoying comraderie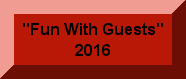 To View the "Fun With Guests" Pictures from 2016, click on the red button above.

It's all about family, friends, and togetherness.  Nothing like a week at the lake to relax and enjoy. 

These brothers gather together at least once a year for fishing or hunting.  They make Lloyd's Cottages their destination about every other year.  We love having them!

Kate, Jon, Mara and Annie have been making Lloyd's Cottages their end of summer break before school starts.

 Brother and sister, Dave and Lorie's, mother and father started coming to the lake in 1959!  Now they, along with Mary and Leslie pose with Beth, Tricia and Cam who is holding little Thomas.  Baby Jack was in the cottage sleeping.  That makes four generations who still enjoy our lake.  We are grateful.

Long time friends, Al and Mata and Gloria and Gordie, enjoy spending a week with us each year.

Tammy, Tyler and Bill enjoy a summer afternoon at the lake.  Looks like Bill is even able to get some work done.  

Guy and Tish enjoy a glass of wine while visiting up at Why Not.

Lorie and Dell join Tish in enjoying that wine.

Friends enjoy a camp fire at Clear View

Stephanie and Kim visit Chaffey's Lock and enjoy the beauty of our World Heritage designation.  

Michael, Mike and Ed take a break after a busy day.

Dennis, Jill, Tricia, and Mary can always be found floating in the lake.  Their favorite place.

Brett grew up at Lloyd's Cottages along with his family who have been our friends since the mid 50's.  He and his wife, Jill, are frequent visitors.  

It must have been a rainy day!  What is everyone doing in our house?  We love having everyone visit whenever and whatever the weather.

Just like so many of our friends, the turkeys like the view from the bench.