Guests having fun and enjoying camaraderie

                      2019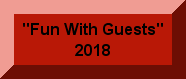 To View the "Fun With Guests" Pictures from 2018, click on the red button above.

It's all about family, friends, and togetherness.  Nothing like a week at the lake to relax and enjoy. 

This family loves spending time on Clear Lake with us.  The boys learned to water ski this year and took us up on a challenge to pull 3 at once.  

After some cliff jumping they tried a little tether ball.  

Taylor took advantage of this old dock that had floated away before he and his whole family helped us get it out of the water.

Maddie and Adam take their new puppy for a boat ride.

Suzanne & Jim are watching their grandson play tetherball.

Brad & Elisa are happy with new additions to their collection.

Many of our guests enjoy helping Ed on projects.  It's not like doing their own "honey do" lists at home as they can always walk away when they get tired or bored.

Don & Peter help Ed pull the deck out from the John Deere and clean it.  

After the old dock floated away it left a big mess.  In order to protect the shoreline from eroding a new "crib" had to be built and set in place.  Then tons and tons of rocks had to be thrown into it.  Thanks to Greg for engineering this project and to the many, many, many hands who helped save our shoreline.

Always a "peanut gallery" to watch the work.

Tree cutting and brush cleaning is an ongoing and endless task at Lloyd's Cottages.  Many hands make light work of this job.

Alaina helped us tear out and clean up an old barbed wire fence.

And lunch is always served.

After a major construction project on our house, Guy and Ed shovel topsoil so that we can sow grass and restore our yard.

Kevin, Wes, Reed and Tom gather for a "Men's fishing week."  They have a great time.  

This is the annual "brothers week" at Lloyd's Cottages.  We love watching them have such a great time together.

A Canadian Air Force General, who made Lloyd's Cottages his summer respite starting in 1959, built this boat by hand.  He was a very talented gentleman.  His son, daughter, grandson, and granddaughters still spend their summer vacations with us.  A wonderful tradition.

When 3 generations of 4 families get together for a week at the lake it is called "EVERYONE WEEK."  We enjoy community meals each night, lunches and snacks at the beach, games at the picnic table, boat rides and just generally enjoy all being together.  This tradition has been going on for over 20 years.

Dinner at Clear View always starts the week.  Each evening the tables, grills and chairs get moved up the road to the next cottage for the next night"s  meal.

Catching up at the beach is usually the daily plan.

One night is Fish Fry (the only time we keep rather than release fish.)  

It's not all about food as this group gets ready for a boat ride to Westport.  Four or 5 boats regatta style had a super day on the water.

The gang gathers on the bridge in Westport for a group photo.

If you don't have a boat you create your own Flotilla with the inner tubes led by the paddle boat.