Guests having fun and enjoying camaraderie

                      2021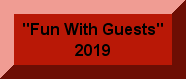 To View the "Fun With Guests" Pictures from 2019, click on the red button above.

It's all about family, friends, and togetherness.  Nothing like a week at the lake to relax and enjoy. 


We were excited when we were finally able to cross the border and get back to our lake and our cottages.  But we needed tons of help to get things up and running.  Thanks to our son, Greg, all our Grandkids, and good friends like Doug and Lynn and Pam and Peter we made it happen.  A few "lucky" people were able to cross as well and were able to stay in their cottage for a week.  

The absolute highlight of the few weeks we were there is when Michael "popped the question" to Megan----and she said YES!  So we are now looking forward to an October 2022 wedding.  This wedding will totally cement the friendship with the Samson family that has been forming through three generations for over 45 years!  

We caught a few fish and had a fish fry.

With Granddad's help, Brian learned the intricacies of the Kubota.  After our basement rebuild in 2019, the new dirt had settled.  Brian brought tons of topsoil to the site to fill in.  

Oh No!  A giant tree fell across the yard.  Thankfully no damage.

The Shea brothers and neighbor, Doug, come to the rescue.  These people are always willing to help and we are very grateful for it.