Guests having fun and enjoying camaraderie

                      2022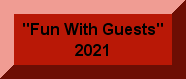 To View the "Fun With Guests" Pictures from 2021, click on the red button above.

It's all about family, friends, and togetherness.  Nothing like a week at the lake to relax and enjoy. 

It was wonderful for Ed and Dell and the whole family to get back to a "normal" summer at the lake.  We started out with over a dozen vacancies mainly because of Covid and lack of vaccinations but also just some of our guests having other obligations.  However, we were lucky to fill most of the vacancies and were treated with meeting many new people.  All in all, it was a good summer.  

After being closed for 2 years, there was lots of work to do.  Many hands jumped in to help us.  As we have said before, we couldn't do this without all the help we get from our wonderful guests.

The summer started when a huge tree that blew across our road near the Launch Ramp.  The tree took all our power lines down.  Luckily, it was prior to Memorial Day and no one was in the cottages.  We were without power for 5 days.  Thanks to our great neighbor, Doug, who brought us a generator.  And clean up help from Pam, Peter, and Marty.

Then it was cottage clean up time.  Nora, Alaina, and Rebecca took on that job this year.  Great job girls.  The boys are jealous. Don't fall off the roof, Nora.

Then the Kemp family and the Shea family decided our Main Dock needed to be replaced.  With more than a dozen working feverishly, the old boards were torn off and new ones screwed down in just a few hours.  Amazing what many hands can accomplish.  Thanks to all who helped on this project.

The "land crew" handle the old boards by removing nails and screws and sorting.

And then take a well deserved break

Bruce, Isaac and Michael install our new storm door.  

While Ed repairs the ruts in the driveway after a big rainstorm.

Al is always looking for a project while staying with us, so we asked him to re-caulk these 70+ year old windows.  He and Bob did a great job.  Thanks.

All hands on deck for the Lloyd family.  Clearing trees near lake front at Why Not to open up their view.

The new chipper sure makes the hated job of hauling brush much easier.

It isn't all work.  Friends sit at beach and visit.

Three of the grandkids take a break.

Fletcher's  first visit to Clear Lake.  We are sure that Mom and Dad, Monica and Tyler will keep bringing him to visit us.

"The Kids" gather for another meal.  This crew sure has a great time together.

Another group enjoying the beach.

Tanner learns how to clean fish.

There's always a camp fire at one cottage or another for a family to gather around.

Bill and Bruce always work hard when they visit us at the lake but they like to have fun as well.

Ed and Dell even managed a day on the lake and dinner at the winery in Westport with friends Pam, Peter, and Keith.

Michael pitched a tent on the hill and this is the morning view.  

A really unusual lightning at sunset taken by one of our guests.

This page is long enough but I just need to document a few things that happened this summer.  First, there were 4 bridal showers, one of them right in our side yard.  Following that, there were 4 weddings. The one that affects us the most was the wedding of our grandson, Michael, to the love of his life, Megan.  

The other thing that happened to us is a tree fell on our house in Virginia.  Luckily, we were at the lake so were unharmed.  However, as of December 1, reconstruction continues and we are living in a Marriott Residence Inn.  Very cozy and comfortable but not home.  

Nicole's shower.  She and Isaac married in May.

Megan's shower.  She and Michael married October 9.

Kiersten's shower in our yard.  She and Dylan married in September in Banff.  I didn't get a picture of the bride and groom.

This is the master bedroom of our house in Virginia. Huge tree fell on it in a storm in June.